Number 3: Djimon Hounsou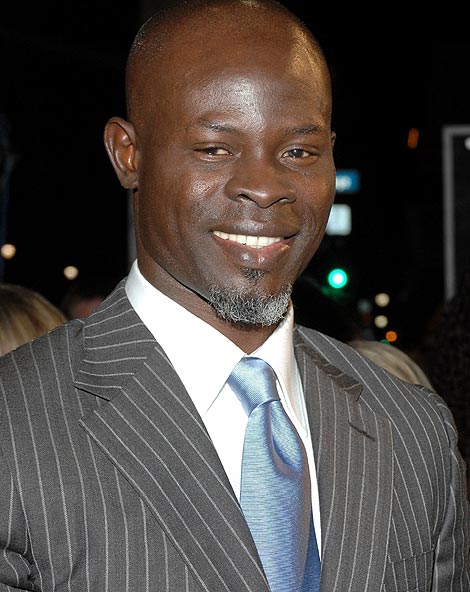 I first noticed Djimon Hounsou in a crowded cafe in Tribeca. LOL. Just kidding. Believe me, if I had, I would be all up on his arm right now instead of Kimora Lee Simmons. On the real, I first noticed Djimon Hounsou in Spielberg's
Amistad
, now a full decade ago. And in that time, Hounsou has grown from a virtual nobody to a household name. His path was set in that first Oprah interview, sitting beside Matthew McConaughey, with the Queen of Talk commenting on his beautiful smile.
As looks would have it, Hounsou was first discovered as a model on the streets of Paris. He had come from his native Benin at the age of 13 and, not finding a job, became a vagrant, sleeping under bridges and rummaging in trash cans for food. Things changed for the better when fashion designer Thierry Mugler discovered Hounsou in 1986 and made him a fashion model. By 1992, he appeared in Janet Jackson's "Love Will Never Do" video and was well on his way to the silver screen.
Amistad came in 1997, followed by a recurring role on NBC's
ER
, in which he played a hospital custodian and Nigerian refugee. It was clear to me then that he was a gifted actor and, since then, I have followed his career more closely than any other. There have been some flops -- namely
Constantine
and
Lara Croft
-- but those are far outdone by his successes, earning him 11 award wins and eight nominations, among them two Academy Award nominations for Best Supporting Actor in
In America
and
Blood Diamond
, about the Sierra Leonean Civil War.
Though the brutality of war is often difficult to watch,
BD
tells Solomon Vandy's human story with humanity, owing greatly to Hounsou's expressive range -- and the compassion and understanding he brings to the role.
But if that wasn't good enough,
now he's a Calvin Klein underwear model!!!!!!
I know this might qualify as sexual objectification, but dayum he's FINE! ;)
All kidding aside, Djimon Hounsou is wonderful to watch on and off the screen, with an intense respect for his craft and humility about his stardom. I cannot wait to see him in subtler roles, reminiscent of his work in
In America
. As good as he is, I don't want him to spend the rest of his career playing the oppressed, angry, yet dignified (and strangely handsome?) African.
Peace,
The AFRican Blogger
P.S. But what's up with dating Kimora Lee Simmons? He had me sold right up until that...