Sorry, folks, I've been busy moving into my apartment and have not been blogging! Though I officially took up residence in my new Fort Greene apartment six weeks ago, my crap has still been sitting in storage. Meanwhile, I was sleeping on my futon mattress on the floor with papers and various things scattered about me like some common squatter in my own home.
At first, I thought it was okay because I'm comfortable with a little bit of chaos around me. But then it started drifting into that territory where the chaos around me reflected the chaos in my mind, I couldn't find things that I was looking for and there was at least one empty food container mingling with my jewelry on the floor.
So on Friday I rented a U-Haul and set about moving all my stuff. One weekend, a tow truck, and several gallons of elbow grease later and here I am! LOL.
But enough about me...
Peace,
The AFRican Blogger
_________________________________________________________________________________
AROUND AFRICA




Nelson Mandela, sporting a walking stick, marked his 89th birthday today with the launch of the Elders
, a group of world-renowned leaders who plan to use "several Nobel peace prizes and 'almost 1,000 years of collective experience' to tackle global crises that governments are unable or unwilling to confront." Ah-ah! Abeg, make am incorporate
at least one
talking drum. I hope dey no go yarn dem the whole session!
The second annual ThisDay Music Festival was held in Lagos on July 14 and 15
, featuring international artists such as Shakira, Rihanna, Kelly Rowland, and John Legend. The event was opened by Vice President Goodluck Jonathan and Lagos State Governor Babatunde Raji Fashola, showcasing Naija artists Tuface Idibia, D-Banj, Mode Nine, Asa, Sasha and P-Square.
John Legend giving props to D-Banj
_________________________________________________________________________________
AROUND THE WORLD

An airliner crashed in Sao Paulo Brazil
this morning, with the death toll rising to 200. Apparently the runway at Sao Paulo's Congonhas airport is "so short and surrounded by heavily populated neighborhoods that [pilots must] take off again and fly around if they overshoot the first 1,000 feet of runway." After a bad takeoff, when he was unable to land the plane, the pilot of TAM Flight 3054 tried to takeoff again -- clearing the airport fence, but slamming into a gas station and a TAM building, before causing an inferno. I was actually freaking out about this because one of my close friends from Sao Paulo was supposed to be flying out soon. Thank God he is okay!
A 6.8 magnitude earthquake in Japan
flattened hundreds of homes, injured more than 1100 people, and sent thousands of others to evacuation centers on Monday. Tokyo Electric Power Co. (TEPCO) has since reported 50 problems at its Kashiwazaki-Kariwa plant, the world's largest nuclear reactor, after the radiation-induced tremor and 1200 liters of contaminated water that leaked as a result. While the Bush administration is busy looking for nuclear weapons in Iran when there is virtually no international oversight of the world's largest nuclear power plant?! Nawaoooo!
_________________________________________________________________________________
AROUND TOWN
New York-based
Beasts of No Nation
author
Uzodinma Iweala wrote a Washington Post op-ed about how the West needs to stop trying to "save AFRica."
In it, he essentially says everything I said in my blogs about
Live Earth
and the
Vanity Fair AFRica issue
, highlighting the ridiculous "I am African" ad campaign.
Great minds think alike, I guess. I just wish that
I
could have a critically-acclaimed debut novel that propels my writing life forward exponentially. Then I could get paid for simply writing down common sense. (You know, I tried to befriend Iweala on Facebook, but I think I scared him away with my enthusiasm and SAFistication. ;)
On Saturday I went to a friend's birthday party at
Petit Bassam, a new French AFRican cuisine restaurant in Bed Stuy
.
Bassam offers appetizers that include: Coconut Prawns w/ Avocado, Beets and Heart of Palm in Caribbean Thai Sauce (delicious!), Calamari w/ Diavola Sauce; Entrees such as Balsamic Apple Glazed Pork Chops, Chicken Breast Roulade, Seared Wasabi Yellowfin Tuna, Fettuccini Carbonara and Vegetarian Lentil Shepherds Pie Casserole.
If you can get past the bedside manner of the bartender, Ayo, you'll taste some
really good food
. Don't worry, it's just that typical Naija charm, so if you talk fast and gist a bit, you can break him down. ;)
_________________________________________________________________________________
GOSSIP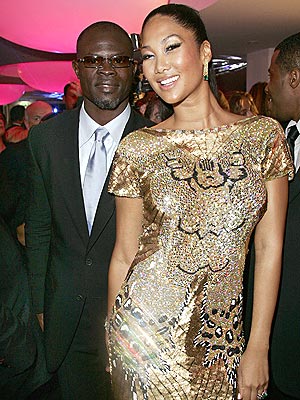 Kimora Lee Simmons is launching a new reality TV show that will feature her beau, Benin actor Djimon Hounsou.
I am STILL SORE ABOUT THIS RELATIONSHIP. Why can't he find an AFRican girl? I really think that he and I could have been great together...